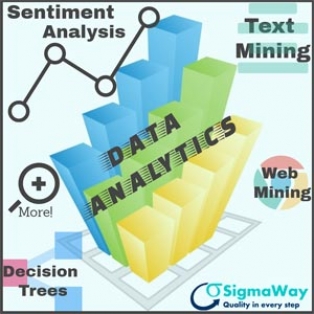 Data Analytics is the science of examining raw data with the purpose of drawing conclusions from it. In today's environment, where data driven business decisions are the norm, becoming familiar with data analysis tools and techniques is key to professional growth.
Get trained in data analytics…Understand data driven application design, accelerate your learning curve, Engage your customers well, improve your ROI and gain competitive advantage.
Gain from the experience of the best in class – With over 30 years of combined experience, our trainers have used the power of data analytics and generated huge benefits for clients.
Content: Hands – on exercises on RapidMiner to understand Data Analytics tools and concepts; Case studies to emulate industry applications. Topics covered include Text Mining,Web Mining, Fraud Analytics, Decision Trees and Sentiment Analysis.
Eligibility: No pre-requisites. Students need ID proof to avail discount
Certification: Training certificate provided on training completion.
Discounts
10% discount for early bird registrations prior to 9th July 2016.
Please choose group registration in the form below to avail of group pricing for corporates
Payment
Paypal and Credit Cards
We accept Paypal payments as well as credit cards processed through Paypal. Due to mandatory changes in the use of Indian credit cards, some cards may not work well with paypal. In case users want to use Indian bank accounts for online payments, please create a paypal id at http://www.paypal.com and register your bank account with paypal.
To use paypal and pay online follow the registration process.
All prices are set in US dollars ($) and then converted to Indian Rupees (INR) by Paypal at prevailing rates
Cheques and Account Transfers
To pay by Cheques or do bank account transfers (manual) please choose 'offline' payment mode in the registration form below. Bank Transfer details will sent via email.
Cheques should made in favor of "Gosigmaway Consulting Services Private Limited"
Please mail the cheques to
Nitin Sinha
Gosigmaway Consulting Services Private Limited
A-7/8 Ranapratap Bagh, Ground Floor, Delhi-110007