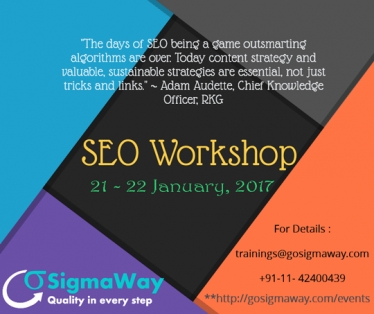 SEO Workshop

"Stop waiting for things to happen
Go out and make them happen"

In this digital world, standing out of the crowd is a necessity for survival and growth and SEO is its key. Learn and implement this tool to improve your outreach.

Contact trainings@gosigmaway.com or visit http://www.gosigmaway.com/events/ to register

AVAIL OF SPECIAL DISCOUNTS - INVEST IN YOUR FUTURE NOW!

Search engine optimization is the collection of techniques and practices that allow a site to get more traffic from search engines (Google, Yahoo and Microsoft), by gaining high ranking on the SERP by incorporating search engine friendly elements on the website.
Get trained in search engine optimization…Understand the tools, accelerate your learning, Increase search traffic, improve your brand awareness and gain competitive advantage.

-----------------------------------------------

Investment: Rs. 5,000 + 15% tax
Early bird discounts also avalilable!
e-mail trainings@gosigmaway.com to avail
Progressive Discounts for Groups (conditions apply)

http://www.gosigmaway.com/events for details and to register

21st & 22nd January, 2017, DELHI, India
Unit - 603, DDA Building, District Centre, Plot No. 4, Laxmi Nagar, New Delhi - 110092

Content: Introduction to Digital Marketing, Search Engine Optimization concepts and tools, Webmaster. Gain hands on experience from the best in class.

Eligibility: No pre-requisites.

Certification: Training certificate provided on training completion.

For more information, contact
trainings@gosigmaway.com
+91 88002 72235
+91 95822 05162
+91 90511 23334
www.gosigmaway.com