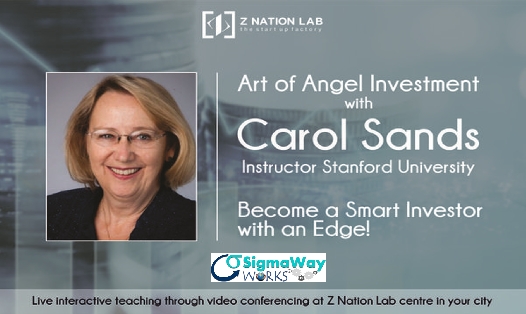 Become a Smart Investor with an Edge!
SigmaWay Works in affiliation with Z Nation Lab present "Angel Investment Course" with Carol Sands
Register here to receive further details
Venue: Live teaching through video conferencing at SigmaWay Works, Laxmi Nagar, Delhi
Registration Fee:
Early bird rate - Up till November 15, 2016 : INR 35,000+ taxes
From November 16 to December 15, 2016: INR 40,000+ taxes
From December 16, 2016 onwards or till seats left: INR 45,000+ taxes
Why is Angel learning important?
• Investing is easy but the journey to a successful exit is difficult
• Quality Startups look for smart investors with an edge.
• Knowhow of negotiation and documentation at early stage is important to avoid future litigations
• Technology is disrupting businesses and investment landscape is evolving rapidly
- 89% of the Fortune 500 went out of business between 1955 and 2014
- 75%of the S&P 500 will be replaced by 2027
- 59% of CEOs worry about being disrupted by a new entrant into their industry.
The goal of every investor is to increase the probability of success. Learning how to place the bet on the right odd during the screening process, monitor the progress by adopting the right checks and balances, monetize the investment at the right point will help in increasing the success probability.
Course Content: What will you learn during the Course?
Week 1 - Finding the Right Deals - Deal Flow Generation; Screening
Week 2 - Selecting the Right Deal - How to do Due Diligence
Week 3 - Investing the Money Part 1 - Financing Choices; Convertible Notes
Week 4 - Investing the Money Part 2 - Determining the Right Valuations; Term Sheets
Week 5 - Managing Your Investment – Reporting, Governance, and Growth
Week 6 - Picking Co-Investor – Raising the NEXT Round of Funding
Week 7 - Managing the Exit – Failures, Acquisitions and IPO's
Week 8 – Live demos and Practical's
About Carol Sands
Carol teaches angel investment as instructor at Stanford University. She is a
Founder of The Angels' Forum (TAF) in Silicon Valley and Managing partner at
The Halo Funds (Series of 3 funds). She is recognized for her expertise in
financing strategies, term sheets, and M&A negotiations.
Carol also serves as the Chair of the Global Womens Leadership Network and
a board advisor to Facing History and Ourselves. She is an Advisory Board
Member for Silicon Valley Association of Startup Entrepreneurs (SVASE) and
the ANZA Technology Network, as well as a member of The Forum for
Women Entrepreneurs & Executives and the Womens Forum West.