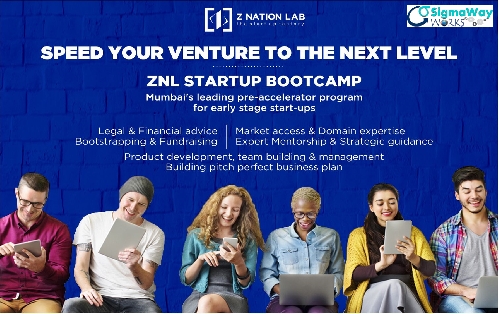 SigmaWay Works presents first edition of ZNL Startup Bootcamp, a pre-accelerator program for enterprising entrepreneurs by Z Nation Lab. The program will prepare startups to pitch to accelerators, early stage funds and grant providers by leveraging Z Nation Lab's global network of professional industry mentors, serial founders, expert speakers and investors.
With a special focus on IoT, Enterprise, B2B and Technology enabled startups, the program will provide deep insights into various global practices and trends. Some of the mentors for the program include Salil Pradhan- VC and Product veteran from Silicon Valley, Jurgen Hase – CEO IoT Business Relaince Communications, Ajay Sethi - Venture Partner at Accel Partners, Sunil Ranka – specialist in big data, AI, machine learning and Oracle ACE Award winner.
The program will be spread over 45 days, placing special emphasis on formulating, scaling and commercializing business models and providing technological leadership through Z Nation Lab's collaborative work space. The curriculum will offer participants the opportunity to learn from carefully designed lectures which would be given through in-person instruction and live interactive sessions with investors and entrepreneurs from Silicon Valley and India. Demo Day: Startups graduating from the program will present their ideas to a room of Accelerator Managers, Early stage investors and Grant providers.
Course Date: November 7th to December 17th 2016
Apply: http://znationlab.com/apply/
About Z Nation Lab
Z Nation Lab provides a state of art ecosystem to tech entrepreneurs and startups to help them accelerate their growth. They are not just a Co-working space with pan India presence, the members at Z Nation Lab benefit from real time access to the global network of mentors, demo-days, pitch counselling, legal and tech consulting and connect to fortune 500 companies.
Z Nation Lab also selectively invests seed capital in early stage startups graduating from their Pre-Accelerator Startup Bootcamp Program.
Portfolio Companies of Investors / Mentors at Z Nation Lab