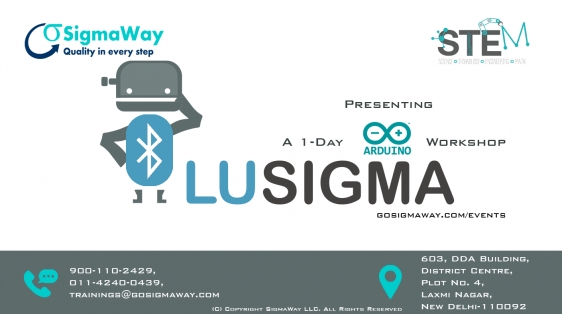 Arduino Based Bluetooth Robotics Workshop

Arduino has revolutionized the field of embedded systems, robotics, internet of things and automation. It has a huge community of makers, hobbyists, engineers and programmers. Arduino is a development board that can be used openly to develop robotic and other automated applications & projects. It's an easy to use microcontroller board and very famous in teaching process for being very inexpensive and easy to learn.

Sigmaway brings you a 1-Day Arduino Based Bluetooth Robotics Workshop. This workshop will be a real time project based one so if you have that quench of learning new and more about electronics and robotics and want to take first step, this is the opportunity for you!!!

Here This workshop will be about the all initial of the arduino and will cover up many technologies like Bluetooth, UART, and some Robotic Algorithms with realtime implementations.
Join us, Learn in Present……Build the Future.
*Note:
Participants will get the kits required for the workshop during the workshop which they have to return back at the time of completion of the workshop. If any one want to buy the complete kit they can purchase it there.

Laptop is must (at least one per team).
-----------------------------------------------

Investment for Students: Rs. 1000 + 15% taxes
Investment for Professionals: Rs. 1500 + 15% taxes
e-mail trainings@gosigmaway.com

http://www.gosigmaway.com/events for details and to register

10th June, DELHI, India
Unit - 603, DDA Building, District Centre, Plot No. 4, Laxmi Nagar, New Delhi - 110092

Contents: Arduino Introduction; Basics of Arduino Programming; Peripheral Interfacing, Building a Robot; Competition & Final Discussion

Eligibility: Students, Designers, makers, engineers, technologists, entrepreneurs, hobbyists and anyone with an interest in electronics and wants to learn should come along.

For more information, contact
trainings@gosigmaway.com
+91 9001102429
+91 88002 72235
+91 95822 05162
+91 90511 23334