Analytics
Get Quick, Intelligent and Smart Data Insights
If you are on this page, then probably you are already aware that successful businesses of all sizes around the world use Analytics for smart insights into their data.. And chances are – you are either curious about how analytics can unlock the hidden value in your data, or you have already tried analytics and want to know what more can SigmaWay do for you.
If you have been window shopping for Analytics for a while, you probably know by now that there is many a software vendor and many a consultant who can offer you Analytics as a product or service. And everyone offers myriad ways in which you can adopt analytics as part of your toolkit for smarter strategy.
What makes SigmaWay different is that we maximize your Return on Investment on the Analytics Initiative by
Keeping your Analytics investment Budget friendly
Using open source software as opposed to those that have expensive annual fees
Customizing
Our offerings are completely customizable to the needs of your business, unlike the bulky "one size fits all" approach. We build for you only that part of the menu that appeals to you
Optimizing use of your internal resources
SigmaWay consultants integrate their technical expertise with your business acumen to provide dynamic solutions that are constantly evolving
Leveraging our industry experience for effective recommendations
We not only design and run analytics initiatives for you, our consultants use their industry expertise to benchmark against industry best practices and provide actionable recommendations for your business
Delivering measurable impact
Our consultants design analytics solutions that have in built capability to measure the business impact they deliver. We make the value of your Analytics Initiative clearly visible to your CXOs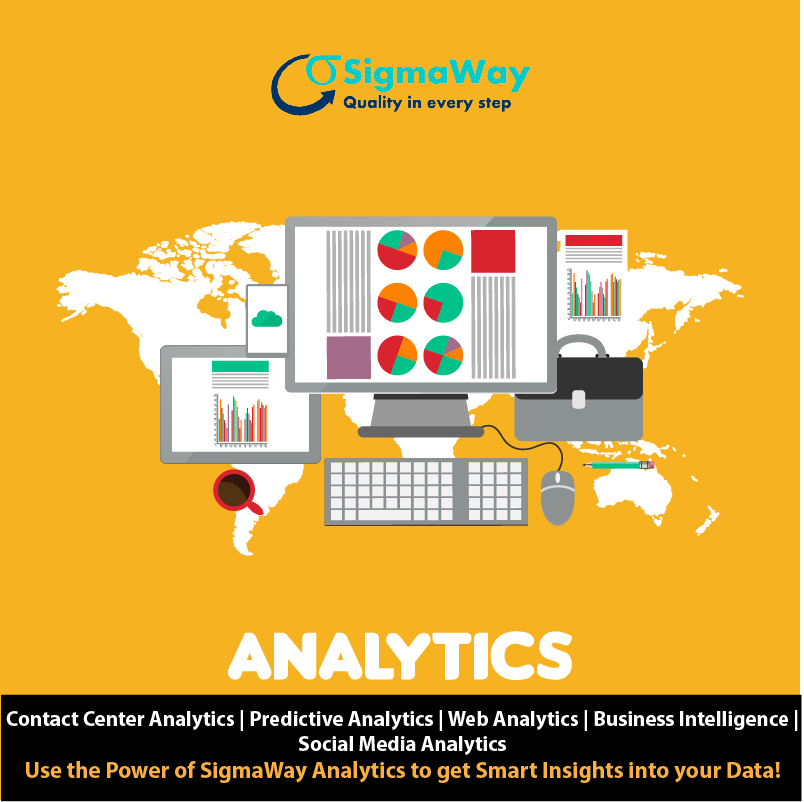 Business Intelligence
Our analysts use top of the line Business Intelligence tools and techniques to help you answer everyday questions and arrive at smarter decisions. Use SigmaWay Business Intelligence for regular reporting services and / or project support.
Social Media Analytics
SigmaWay creates a one stop, customized analytics solution – to help you align your social media effort to your business goals
Let's deliver the right solution for your business.
Contact us today for a "proof of concept" of what our Analysts can do for you! You can engage us in an on-demand short term project or a long term ongoing assignment for comprehensive insights to your current and past datasets.