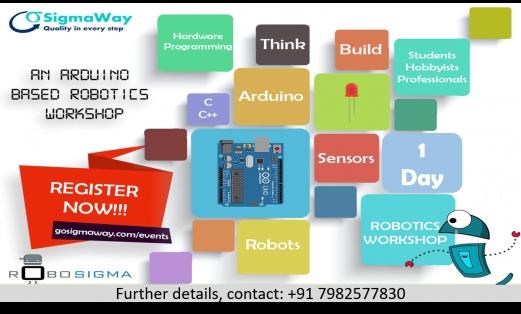 RoboSigma: Arduino 4 Beginners Workshop

Arduino has revolutionized the field of embedded systems, robotics, internet of things and automation. It has a huge community of makers, hobbyists, engineers and programmers. Arduino is a development board that can be used openly to develop robotic and other automated applications & projects. It's an easy to use microcontroller board and very famous in teaching process for being very inexpensive and easy to learn.

Sigmaway brings a 1-Day Arduino Beginner's Workshop. This workshop will be a real time project based one so if you have that quench of learning new and more about electronics and robotics and want to take first step, this is the opportunity for you!!!

Here This workshop will be about the all initial of the arduino and will cover up technologies like PWM and some Robotic Algorithms with realtime implementations.
Join us, Learn in Present……Build the Future.
*Note:
15% discount for early bird registrations prior to 10th May 2018.

Participants will get the kits required for the workshop during the workshop which they have to return back at the time of completion of the workshop. If any one want to buy the complete kit they can purchase it there.

Laptop is must (at least one per team).
-----------------------------------------------

Investment: Rs. 1000 + 18% taxes
e-mail: trainings@gosigmaway.com

Venue: SigmaWay Works, Unit - 603, DDA Building, District Centre, Plot No. 4, Laxmi Nagar, New Delhi - 110092

Contents: Arduino Introduction; Basics of Arduino Programming; Peripheral Interfacing, Building a Robot & Final Discussion

Eligibility: Students, Designers, makers, engineers, technologists, entrepreneurs, hobbyists and anyone with an interest in electronics and wants to learn should come along.


Payment
Paypal and Credit Cards
We accept Paypal payments as well as credit cards processed through Paypal. Due to mandatory changes in the use of Indian credit cards, some cards may not work well with paypal. In case users want to use Indian bank accounts for online payments, please create a paypal id athttp://www.paypal.com and register your bank account with paypal.
To use paypal and pay online follow the registration process.
All prices are set in US dollars ($) and then converted to Indian Rupees (INR) by Paypal at prevailing rates
Cheques and Account Transfers
To pay by Cheques or do bank account transfers (manual) please choose 'offline' payment mode in the registration form below. Bank transfer details will be sent by email.
Cheques should made in favor of "Gosigmaway Consulting Services Private Limited"
Please mail the cheques to
Nitin Sinha
Gosigmaway Consulting Services Private Limited
A-7/8 Ranapratap Bagh, Ground Floor, Delhi-110007
For more information, contact
trainings@gosigmaway.com
+91 7982577830
+91 90511 23334
www.gosigmaway.com