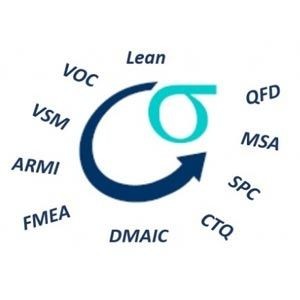 Lean Six Sigma is a globally accepted set of tools, techniques and project management practices that can improve the performance of any process and is coveted by leading international corporations
Become a Lean Six Sigma Green Belt…gain problem solving skills; learn to leverage analytical tools; make your resume stand out from your peers.
Learn from the best in class – our trainers are certified Master Black Belts / Black Belts with international experience.
Contents: Lean and Six Sigma concepts; Group exercise and Case study; Reference Material handouts; Online access to key reference material
Our Key Differentiator: Post training access to online discussion forums and periodic Webinars, and 1 Green Belt project mentoring session by seasoned Black Belt..
Eligibility: No pre-requisites. Students need ID proof to avail discount
Certification: GB Trained and Tested - On 100% Attendance of Classroom Session and passing Online Assessment. Certification means: Competent in basic Lean Concepts and Six Sigma analytical tools necessary for executing Green Belt projects. (If you complete our training and then do a live project, we also provide Green Belt Project Certification, on review of project report and Affidavit from your organization)
Register at: trainings@gosigmaway.com or visit: http://www.gosigmaway.com/events/lean-six-sigma-training/25-green-belt-training-delhi-india-19-22-december-2016
Date: 19th to 22nd December, 2016, Delhi, India
Address: Unit - 603, DDA Building, District Centre, Plot No. 4, Laxmi Nagar, New Delhi – 110092
Investment for Students: Rs. 5,000 + 15% taxes
Investment for Professionals: Rs. 20,000 + 15% taxes
Early bird discounts also available! And progressive discounts for Groups (conditions apply)